About Us
Locally owned and operated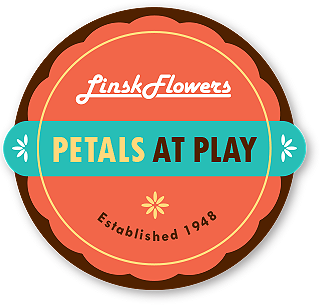 Linsk Flowers has been delivering smiles since 1948! We began as a small, family-owned business with a passion for flowers and a deep commitment to community. Although we've grown and changed significantly since 1948, the Linsk family values remain strong and continue to guide us every day. It's no surprise that so many area residents and businesses rely on us, year after year, for their important events and gift-giving occasions. We offer our customers a personalized, often fun, hands-on experience few can match. Our highly skilled design team has earned their reputation for excellence – one design at a time – based on unsurpassed expertise, attention to detail and the desire to exceed all expectations. In addition,we have a newly,updated facility, the operational capacity and quality assurance standards necessary to meet any and all event and gift giving needs. Place your orders with us online or call us for delivery around the corner, around the country or even around the world. And when you do, we promise to deliver a smile or two for you!


REGULAR BUSINESS HOURS:
9 am to 5 pm Monday - Friday
9 am to 12 pm Saturday
HOLIDAY HOURS:
CLOSING EARLY Wednesday, 12/23 due to winter storm
CLOSED Thursday, Friday & Saturday, 12/24, 12/25 & 12/26
OPEN 9 am to 12 pm Thursday, 12/31
CLOSED Friday & Saturday, 1/1 & 1/2
Linsk Flowers
5555 W. Lake St.
St. Louis Park, MN 55416
Contact Information
Call or email us any time for any reason. If you have questions, suggestions, want to personalize your order, or simply want to know how to find our shop – we want to hear from you!
952-920-3525
email@linskflowers.com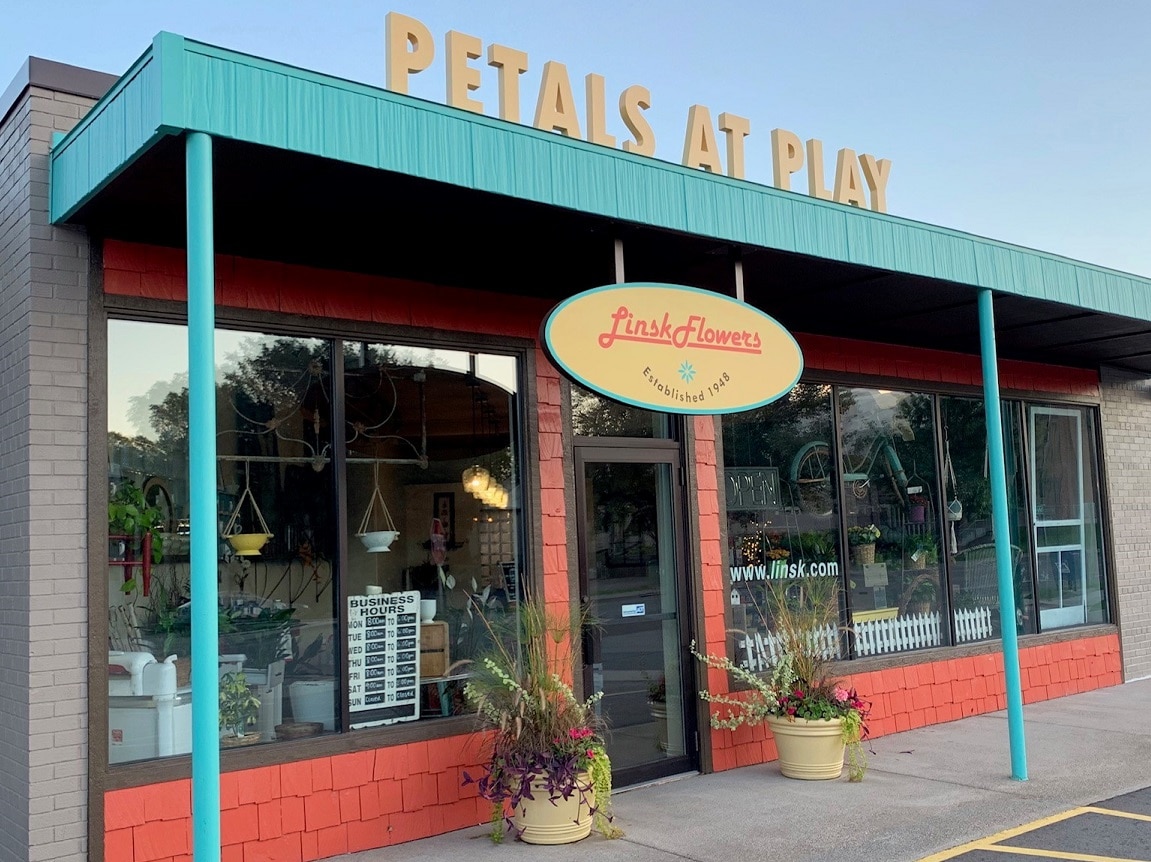 Specialty Services
We're all about gorgeous flowers without attitude. We get to know our customers, resulting in custom designs and personalized service like no other. Our extensive inventory is unsurpassed - allowing us to respond quickly and offer countless options from traditional and elegant to contemporary and artistic. We're strong believers in the power of buying local. Which is why many of the items we sell come to us directly from Minnesota growers and craftsmen.

Large or small, our professional design team treats every order with the same level of care.
Flowers:
Seasonal
Sympathy
Special Occasions − Birthday, Anniversary, Baby and Get Well
Corsages and Boutonnieres
Custom designs
Special events
Plants:
Green
Blooming
Dish Gardens
European Garden Baskets
Plus:
Gourmet Gift Baskets
Handcrafted Chocolates
Balloon Bouquets
Greeting Cards
Stuffed Plush Animals
Areas Served
Oh the places we'll go! Besides pizza, ours is one of the few products created and delivered fresh all in the same day. That's because our friendly drivers know how to get around town quick. More importantly, they specialize in the handling and care of beautifully designed florals.
Linsk Flowers, the premier Twin Cities metro florist, is proud to serve these Minnesota communities plus their surrounding areas and zip codes:
St. Louis Park
Minneapolis
St. Paul
Edina
Hopkins
55003 55044 55014 55016 55024 55025 55038 55042 55044 55045 55055 55068 55071 55075 55076 55077 55082 55090 55101 55102 55103 55104 55105 55106 55107 55108 55109 55110 55112 55113 55114 55115 55116 55117 55118 55119 55120 55121 55122 55123 55124 55125 55126 55127 55128 55129 55144 55150 55301 55303 55304 55305 55306 55309 55311 55313 55315 55316 55317 55318 55323 55327 55328 55330 55331 55337 55340 55343 55344 55345 55346 55347 55352 55356 55358 55359 55361 55362 55364 55369 55372 55373 55374 55375 55376 55378 55379 55384 55386 55387 55388 55391 55392 55398 55401 55402 55403 55404 55406 55407 55408 55409 55410 55411 55412 55413 55414 55415 55416 55417 55418 55419 55420 55421 55422 55423 55424 55425 55426 55427 55428 55429 55430 55431 55432 55343 55435 55436 55437 55438 55439 55441 55442 55443 55444 55445 55446 55447 55448 55449 55450 55454 55455 55569
In addition, we offer same day delivery throughout the greater Minneapolis and St. Paul areas on orders placed before 10:30 am, as well as next day delivery throughout the US and world wide.
Payment Options
We accept the following payment methods:

Visa
MasterCard
Discover/NOVUS
American Express
Guarantee
We work hard to make sure every arrangement that leaves our shop is no less than perfect. However on those rare occasions when things don't go as planned, we offer a 100% satisfation guarantee. If you're not completely satisfied, contact us right away and we'll do everything in our power to make it right.
Order Changes
We're sorry but we cannot cancel or make changes to any order presently en route or already delivered. If you find it necessary to make corrections to an order you've placed, call us immediately and we will do everything we can to implement your changes. Please do not send changes via email because they may not be received in time.
Delivery Policy
A fee will be added to your order total for each local delivery. This charge will vary depending on the location of the recipients address. Please call us for specific delivery area pricing.
Local orders must be placed by 10:00 am Central Standard Time to assure same-day delivery at the regular rate. Orders placed after 10:00 am may still be delivered same-day but may result in an upcharge to cover special courier charges. Please call if you would like to place a same-day order after the 10:00 am cut-off.
We will do our best to accomodate delivery requests for general times of day, but cannot offer or guarantee specific, timed requests especially during busy holidays. Please let us know when you order if you have a time-sensitive delivery. We'll do what we can to accomodate you, but keep in mind there my be an additional fee if a special courier is needed.
We are closed and unable to make deliveries on Sundays and major holidays. These occasions by be delivered either the day before or after depending on customer preference.
If we are unable to find the recipient at home, we will either leave the package with a neighbor or, weather permitting, in a well protected area outside the recipient's home. We will tag the door and/or call the recipient to let them know where to find their package. In the event we are not able to safely leave a package, we will make every attempt to coordinate delivery with the recipient in a timely manner but cannot guarantee they will recieve it the same day. If we are unable to reach the recipient, we will contact you for further instruction.
When sending national or international orders via Teleflora's Florist Network, an additional wire service fee will be charged in addition to the florist's delivery fee. We can accept any order within the United States but are unable to accept international orders online. Please call the shop directly and we'll be happy to assist you.
Based on the information provided upon order, we cannot be held responsible if delivery is made to a wrong address or while a recipient is out of town.
If you have questions or a specific request regarding a delivery, please contact us at 952-920-3525.
Substitution Policy
Occasionally, flower or plant substitutions may be necessesary due to seasonality and limited product availability.Care will be taken to maintain the arrangement's style and color scheme using comparable flowers or plants of similar or greater value. The substitution of specfic vases, baskets and containers may also be necessary. Call us if you have any concerns - we'll be happy to verify availability and offer specific substitution options as needed.
Privacy Policy
This privacy statement has been created in order to demonstrate our firm commitment to protecting customer privacy.
Information We Collect
If you open an account on our site or make a purchase, we need your contact information including your name, e-mail address and mailing address to complete your transaction.
When you visit our website, we also collect some basic information that does not identify individual users. We use this information to determine our users demographics and interests, so that we can better understand and serve our users.
"Cookies"
Cookies are small files which store certain information about your activity on the website and are stored on your computers hard drive. Our cookies do not contain any personally identifying information. We use cookies to let us know that you are a prior customer, so that you dont have to reenter information you gave us on your prior visits. Most web browsers automatically accept cookies, but most allow you to instruct your browser to prevent the use of cookies. However, if you disable cookies, you will not be able to use certain features of this website.
Our Use and Disclosure of Your Information
When opening an account or making a purchase, you have an opportunity to opt-in or opt-out from receiving emails from us. If you opt-in to receive information from us, we may use your purchase history, contact information and other registration information to provide you with more relevant information and email content. We may send emails to our users regarding changes in our services or other information we believe will be of interest to our users. If you prefer not to receive these emails, you can send us an email with the subject line no emails or reply to our email with the subject line no emails.
If you send us personal correspondence, such as emails or letters, or if other users or third parties send us correspondence about your activities on our site, we may collect such information. We may use that information and other information that we obtain from your use of our site to resolve disputes, troubleshoot problems and enforce our agreement for Terms of Use.
We may share aggregate statistics about our sales, traffic patterns and related site information with other businesses, but these statistics will include no personally identifying information.
We may share your information with Teleflora and other reputable vendors for the purpose of sending out special offers via email and/ or in connection with the services provided by our site such as the delivery of flowers. Your information will not be shared for any other purpose and will be kept secured.
We cannot ensure that all of your private communications and other personally identifiable information will never be disclosed in ways not otherwise described in this Privacy Statement. For example, we may be required to disclose information to the government or third parties under certain circumstances, or third parties may unlawfully intercept or access transmissions or private communications. We can (and you authorize us to) disclose any information about you to law enforcement or other government officials as we, in our sole discretion, believe necessary or appropriate in connection with an investigation of fraud, intellectual property infringements, or other activity that may be illegal or may expose us to legal liability.
Security
This site has security measures in place to protect the loss, misuse and alteration of the information under our control.
All user credit card information is securely communicated using secure socket layer (SSL) software, which is the industry standard and among the best software available for secure commerce transactions.
All user information stored on our server is stored in an encrypted format. Notwithstanding these efforts, we caution you that perfect security does not exist on the Internet.
Linked Sites
If this site contains any links to other websites, we are not responsible for the privacy practices or the content of such websites.
Changes to Privacy Statement; Consent
We may update this Privacy Statement from time to time. You should check this page periodically for changes. By using our site, you consent to the collection and use of your information by us as described in this Privacy Statement.
Questions and Comments
We welcome your questions and comments about this Privacy Statement.